Associate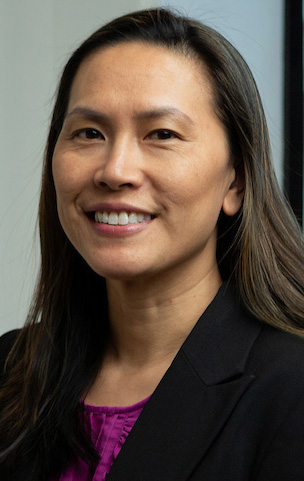 Ms. Hong-Gonzalez specializes in intellectual property law with a focus on patent preparation and prosecution, intellectual property-related business transactions, and patent litigation. She has prepared and prosecuted utility patent applications in various technical arts. She also has experience in drafting and negotiating research collaboration, confidentiality, material transfer, and consulting agreements in the life sciences field.
Ms. Hong-Gonzalez received her Master of Science in Physiological Science, with a concentration in Cancer Biology from the University of California, Los Angeles. She conducted her research on the effects of diet and exercise intervention on breast cancer risk factors, including estrogen, obesity, insulin, and insulin-like growth factor-I. She worked as an associate in both academic and industry laboratories where she conducted research in diabetes, prostate cancer, gene regulation, and transdermal drug delivery.
Ms. Hong-Gonzalez attended Golden Gate University School of Law where she received the CALI Awards for Academic Excellence in Patent Litigation and Advanced Legal Clinic. She interned at Astex Pharmaceuticals, Inc. and Nodality, Inc. where she developed knowledge of contract lifecycle management and assisted in managing prosecuting efforts of outside counsel.
Prior to working at I.P.L.G., Ms. Hong-Gonzalez worked in Genentech's U.S. Site Contracts Department where she drafted, negotiated, and managed various types of clinical contracts. She also worked as a patent agent for a local firm drafting and prosecuting medical device patent applications.
Ms. Hong-Gonzalez spends her free time with her husband, children, and two dogs.
Practice Areas
Intellectual Property

Admissions
State Bar of California
U.S. Patent and Trademark Office
U.S. District Court, Northern District of California
Education
University of California, San Diego, B.S. Animal Physiology and Neuroscience, Minor in Chinese Studies
University of California, Los Angeles, M.S. Physiological Science
Golden Gate University School of Law, J.D.
Memberships
The San Francisco Bay Area Intellectual Property American Inns of Court
Asian Pacific American Bar Association of Silicon Valley
Select Publications
Kobayashi N, Barnard RJ, Said J, Hong-Gonzalez J, Corman DM, Ku M, Doan NB, Gui D, Elashoff D, Cohen P, Aronson WJ. Effect of low-fat diet on development of prostate cancer and Akt phosphorylation in the Hi-Myc transgenic mouse model. Cancer Res. 2008 April:68(8):3066-3073.
Barnard RJ, Gonzalez JH, Liva ME, Ngo TH. Effects of a low-fat, high-fiber diet and exercise program on breast cancer risk factors in vivo and tumor cell growth and apoptosis in vitro. Nutri Cancer. 2006 Sept:55(1):28-34.
Chisholm JW, Hong J, Mills SA, Lawn RM. The LXR ligand T0901317 induces severe lipogenesis in the db/db diabetic mouse. J Lipid Res. 2003 Nov:44(11):2039-2048.
Languages Spoken
Cantonese