Of Counsel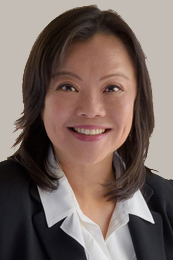 Alison Yew immigrated from Hong Kong with her family as a child, and grew up in Southern California. In 1988, Alison graduated from the University of California, San Diego, with a Bachelor of Arts degree in psychology. Alison worked at a San Francisco law firm for several years, before enrolling at the University of San Francisco School of Law, where she earned her Juris Doctor degree in 1994.
She has now been licensed and practicing law for 20 years. Most of this time, Alison practiced as a civil litigator with extensive trial court experience, and was a partner with a national civil litigation law firm. Alison has taken and defended over 200 depositions, and has experience in bench and jury trials, all with positive results for the client. During this time, Alison saw the need to provide immigration related hiring and employment advice to her nationwide corporate clients, and took steps to develop the law firm's immigration law practice group. In 2013, she founded the Law Office of Alison Yew, focusing on business and individual/family immigration.
Over the years, Alison has successfully helped companies and businesses hire highly skilled foreign workers, utilizing employment-based petitions for temporary and permanent work visas. She has helped USCIS understand the need for extraordinary talents in the United States and thus assisted with obtaining residency and temporary status for professional athletes, stage/movie performers, TV and film directors, musicians and choreographers to remain and conduct their expert trade in the United States. Alison has also earned the confidence of overseas high net-worth investors to represent them in the process of obtaining a green card through the EB-5 investor visa program, because of Alison's legal acumen and work ethics. As a result of referrals from satisfied clients, Alison has been particularly gratified by the work she has done to unite families through family-based petitions for green cards.
Alison has been a member of the California State Bar since graduating from law school and passing the California bar exam in 1994. She is admitted to practice before the Northern and Eastern Federal District Courts of California, and is a member of the American Immigration Lawyers Association ("AILA"). While in law school, Alison won an award for the best Moot Court Brief in her class, and later was selected to intern for the California Court of Appeal, with now-Supreme Court Justice Kathryn M. Werdegar. During the school year, she was involved with the criminal law clinic, which provides pro bono legal services to low income defendants, in upholding the U.S. Constitution's guarantee to effective legal counsel, and taught law to middle school students in San Francisco, through her law school's Street Law Program.
Alison continues her dedication to the community and volunteer work. Every month, Alison volunteers with the Jewish Family Services in Los Gatos, to provide immigration assistance to asylees and refugees. In November 2014, Alison closed her practice and went to Artesia, New Mexico, to volunteer with the AILA Artesia Pro Bono Legal Defense team, to provide immigration/deportation defense to Central American mothers and children, who were detained by the government. Super Lawyers awarded the Artesia Pro Bono Legal Defense and its volunteer attorneys and legal assistants with its coveted 2014 Pro Bono award for the organization's contribution to this important cause.
Practice Areas
Complex Litigation
Immigration
Admissions
State Bar of California
Northern and Eastern Federal District Courts of California
Education
University of San Francisco, San Francisco, CA, Juris Doctor
Summer Abroad Program in Dublin, Ireland (Trinity College), Summer
Civil Procedure Tutor, Academic Support Program
Instructor, Street Law Program
Judicial Extern, Justice Kathryn M. Werdegar, CA Court of Appeal
Memberships
American Immigration Lawyers Association ("AILA")
Awards
Moot Court Award, Best Written Brief